Introduction
Whitford Quan Tanium Ultra hard Titanium based Honeycomb Coating, PFOA Free
Aufla offers you the advantages of a stainless-steel pan and a non-stick coating in one, an aluminium core, 18/10 stainless steel interior and resistant steel exterior.
The honey comb pattern with raised structure makes the non-stick layer intact for longer period. It has extreme scratch resistance hence it is safe to use with metal spoons.
Air Pockets push food upwards and increase stick resistance
The 18/10 stainless steel inner body is food safe as there are no chemicals that can migrate into the food
The aluminium core in the second layer is an excellent heat conductor, it enhances even heat distribution throughout the cookware
The 18/10 magnetic stainless-steel layer makes the cookware compatible with heat sources and it is exceptionally durable
Strong Ergonomic Stainless-Steel rivets & handles for better grip
360° edge-to-edge induction base maximizes area for heating, suitable for all heat sources
5 years warranty on cookware & 2 years on coating.
Detailed
Honeycomb hexagon pans eliminate your main problems you face when cooking – even heat distribution for perfect cooking, and the burdensome task of scrubbing or soaking baked on messes after cooking. The elevated honeycomb stainless steel micro structure, combined with the lower ceramic Food grade non-stick surface. The result? A virtually indestructible non-stick surface with 100% even heat distribution.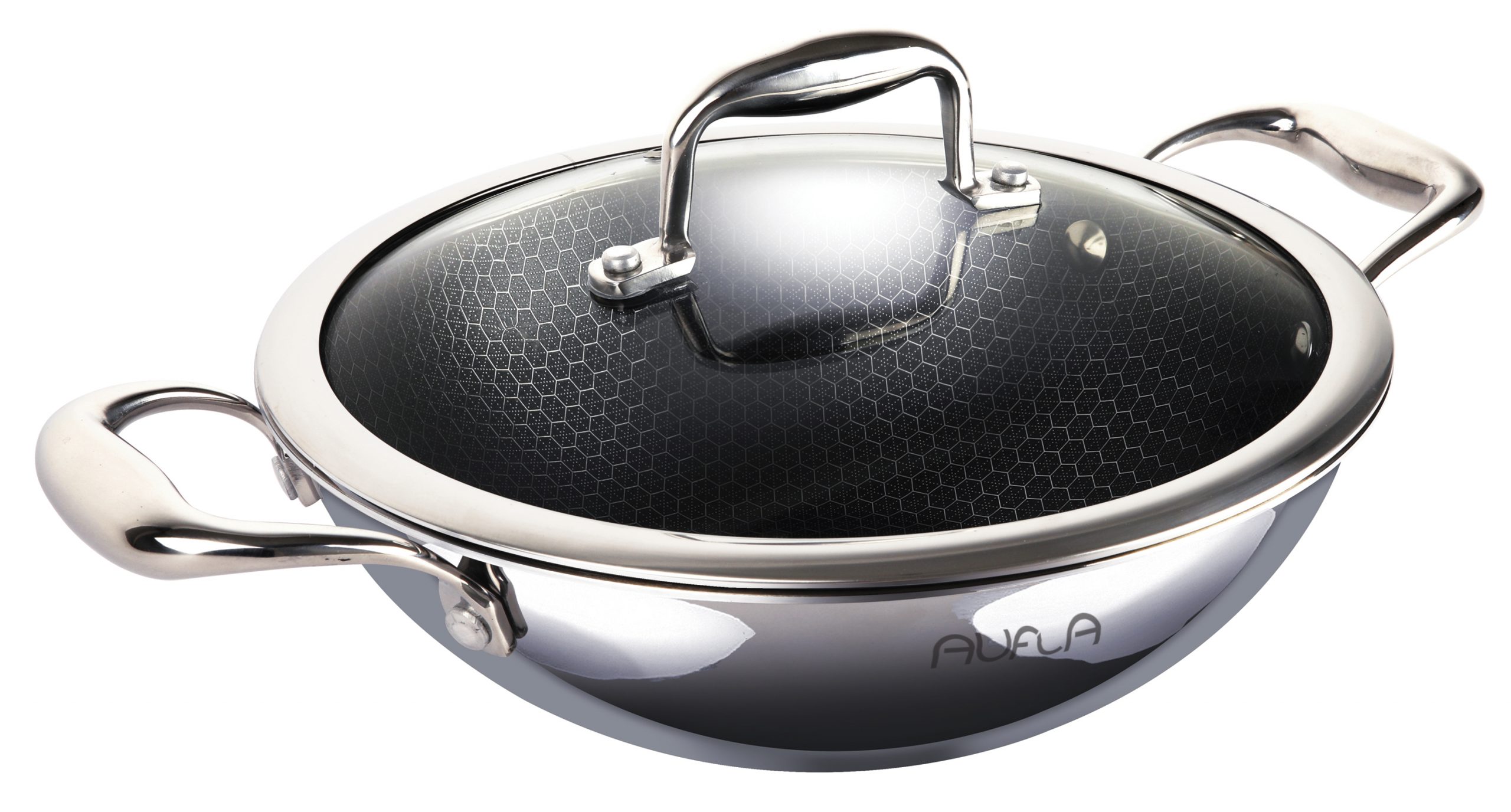 Structural Features
So how does it work? Well, we start with a clad constructed pan. That means there is an inner and outer layer of heavy grade stainless steel. These two layers then sandwich a middle third layer of aluminium. So the stainless steel provides superior non-stick properties and durability, while the aluminium core provides 100% even heat distribution in your pan. This is where you really start to get great cooking results.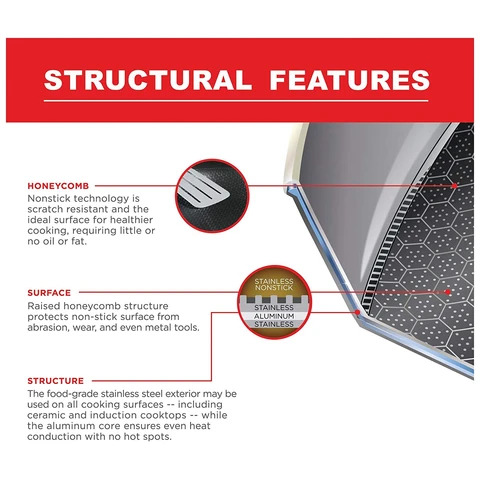 Heavy Grade Construction
Stop buying department or discount store cookware. It simply does not last. By comparison, our honeycomb pan is T304 heavy-gauge stainless steel. The amazing pan core is high grade aluminium, which eliminates hot spots in the pan. The handle is a chef quality double-riveted long handle, and features a beautiful brushed finish and forged kitchen hook.
While the non-stick and cooking attributes of this pan are superior to available cookware today, we must say the aesthetics make this pan one of the most attractive you bring into your kitchen. From the striking black Honeycomb and stainless hex surface, to the mirrored finish exterior, and the brushed satin exterior pan bottom, this pan elevates any kitchen.
Healthier Cooking
Using the Whitford Quan Tanium Honeycomb and stainless-steel non-stick design actually creates much healthier cooking. There will be little to no need for using butter or oil in your cooking. With a true non-stick surface, you don't have to use unnecessary fats to keep food from sticking. For example, we've all buttered our pans before cooking eggs, fish, etc. But now you get perfectly seared and cooked food, but without the added calories.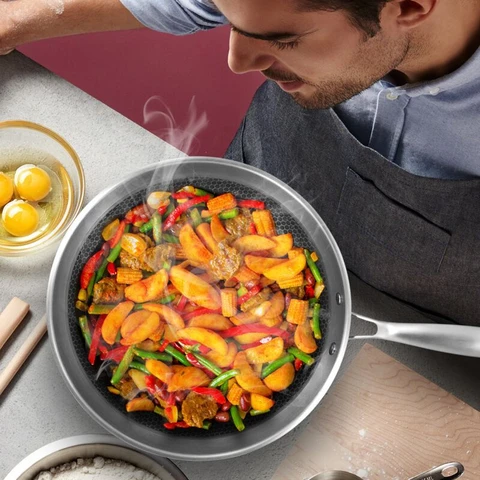 Safe For Metal Utensils
Using Whitford Quan Tanium Honeycomb non-stick surface pans, you actually can use any type of metal utensil you want in the pan – metal spatulas, metal forks, knives, tongs, you name it. All without fear of scratching the Honeycomb surface due to the raised hex stainless steel protective barrier.
Use the Honeycomb Pan Everywhere
Imagine a pan that works perfectly on every type of cooking surface. The honeycomb pan works with electric stoves, gas stoves, induction cooktops, ovens, halogen cooktops, solid plate heating, barbecues, grills and even open campfires!